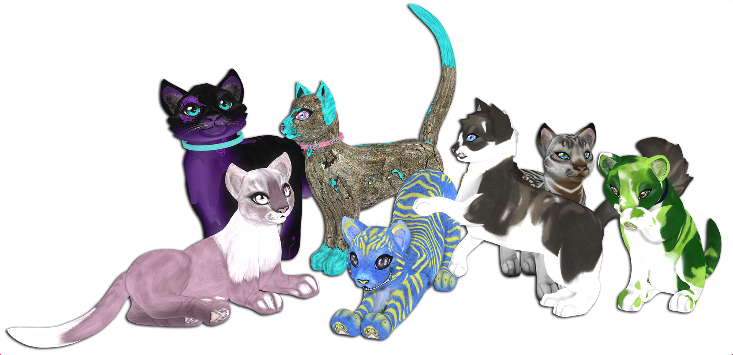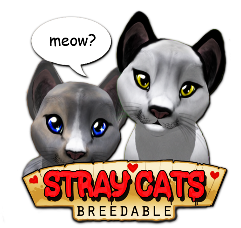 Runs every month
Deadline for submissions is always
the 2nd of the next month.
JULY Submissions are due by July 2, 2021
Get to Nic inworld!
Last Winning Kitty:
Pelt: Van - Lilac
Eye Color: Earth
Eye Shape: Kawaii
Pupil: Ring
Ears: Tuft
Tail: Nibbit
Shade: Mint Aura
Body: Fluffy
JUNE 2021 Winners:
1st - ALEX (tabiya64)
2nd - NIC
3rd - ONICA
URGENT REMINDER: VERSION 1.43 OR EARLIER - DO NOT WORK!
We are still seeing people selling old versions. Please be courteous to your fellow breeders and UPDATE.
Any of you with 1.43 or earlier versions of cats, you MUST update them to Version 1.44.
For all v1.44 cats, you need V3 bowls.
Old V2 bowls no longer work - Please delete them. REMEMBER! Your foods are stored on the server in your account. V3 bowls will automatically load your food and milk.
UPDATER AND BOWLS, AND NEW HUD AVAILABLE AT CAT-HQ - http://maps.secondlife.com/secondlife/Bast/220/130/31
If you do still have older versions, you can update them if they are yours. You CANNOT update older cats/shells if they were given to you, or purchased AFTER November 1, 2020.
Please contact Nic (Nicolyti Resident) to update for you.
Do NOT BUY OR SELL v1.43 or earlier versions of cats. Their ownership will NOT change. They will not work.
There is a little quirk with the original 1.44 updater…Cats updated with that first Updater will need to be rezzed TWICE when you pass a kitten/shell to someone: To change ownership properly and make it fully functional. That Updater was quickly adjusted, but there there are some cats out there still. We are sorry for this inconvenience.
If your cat market sims are having monthly contests and would like a mention and share on this website, please contact Nicolyti Resident with all your information! We'd love to :)


What to look forward to in the coming weeks
Neko - Black Opal & Latest pelts
August - Summer LE
Early September - SOS Event with
New release
New LE
New OOAK
Mid-Late September -
Next Elemental - Water
Currently at HQ is our latest Elemental-Earth
It unlocks two pelt colors, Jungle Green and Terra, on 4 possible breeds: Calico, Caliby, Van and Van Calico.
It can only be purchased with 10k stray points.
The Latest Neko has been released - Black Opal.
It will unlock the 'Black Opal' pelt on Solid and Bengal breeds.
This is a random possible drop in the last 5 breedings of any female cat. It is however, extremely rare.
Recently Added:
Faboo Butterfly - Sapphire
Bengal - Liverspotted
German Shepherd - Raspberry Rose
Just began!!!
We need you to design our next Halloween LE!!!!
Please read the following for all the information you need - HERE!
Also !!!!
A Breeding Contest for a Halloween Themed Kitty.
Please read the following for all the information you need - HERE!
There are Boards with notecards inworld at HQ and on our Bast sim also.
BREEDER OF THE MONTH CONTEST