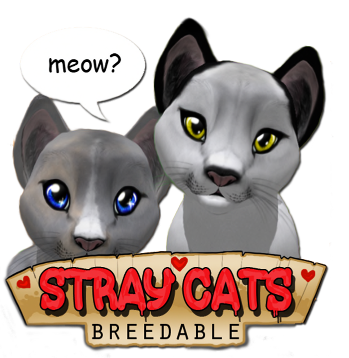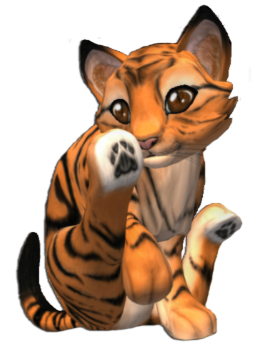 Second Life's Best Cat Breedable Ever!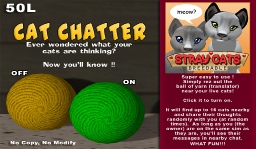 -RESIZERS
Large - Makes your cat 6x larger in size
Small - Makes your cat 'kitten' size forever.
These potions are for looks only. Enhancements do not pass.
-PURRMANENTLY YOURS
-SHADE REMOVER SHAMPOO
Litterboxes, Toilet Paper, Floppity Fish, Xylophone
Stray Tip Jars
All 13 Zodiac Sign Cats are available at HQ.
They come in shade and non-shade versions.
Aquarius, Pisces, Aries, Taurus, Gemini, Cancer, Leo, Virgo, Libra, Scorpio, Sagittarius, Capricorn, Ophiuchus

HUGE ASSORTMENT OF POSSIBLE ATTACHMENTS AVAILABLE FOR YOUR KITTIES, INCLUDING
Wings - Angel, Dragon and Bat
Fangs, Bows, Hats, Moustache, Tiara, Pearls, Ruffles, Bread, Halos, Collars, Goatees, Berets
sooooo much more!
NEW: Nose Butterflies
We are always adding new things. Check HQ once in awhile for goodies.
Personalize and beautify your kitties!
Also available- Figurine Collectiibles of Shell/unborn Statuettes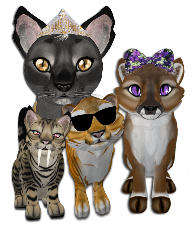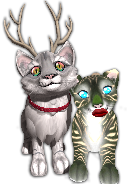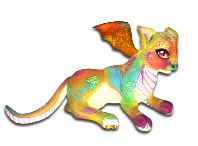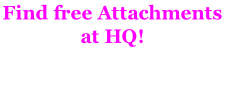 Special Food & Milk Bowl
(For Cinco de Mayo)
Taco Plate (food)
Salsa Bowl (milk)
Spray Water Bottle
Lucky Chair
Marshmallow Chicks
Market SURL Manager V1.1 - Will do Single SLURL Market Setting, or batches up
to 15 cats at one time
Points Exchange Token - This will now let you sell your extra Stray Points to
another breeder.
Updater v1.44
Emergency Kit
CAT HUD Giver
Food & Milk Bowls
Utility Post Tool - Quick handy tool to let you know your current Stray Points,
and quick access to your Webtools
Destiny Travel Suitcase - For destinying multiple shells at once (no need to birth)
Please always read the Help Notecards to understand how these work.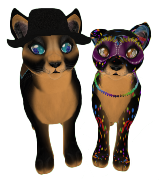 Each unlocks two new pelt colors onto specific breeds.
Latest Elemental Added: Mystic
Purchase with 10k stray points.


Each unlocks two new pelt colors onto specific breeds.
Purchase with 6k stray points.
Informational Notecards
Are always available at HQ
to assist you, plus
our Manual in many different languages is provided.