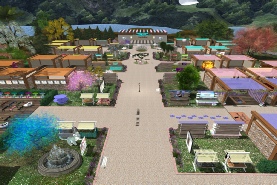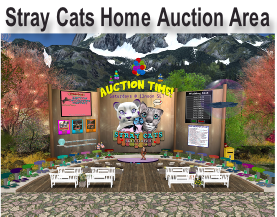 Our CSRs
Cat-A-Lyst (CathrynDawn)
Gabonica Lorefield
Rhadira Stromfield
Chat in our Group!
* Stray Cats Breedables Main Group *
Our community loves to chat and share.
If you need a CSR,
this is the place to ask.
Or contact Nic♥ (Nicolyti Resident)
General Manager, for assistance.
Can't reach anyone for help?
File a Ticket Here !
Stray Cats have a Flickr Page
Join and Share today!!!
Stray Cats have a Discord Channel
Join and Share today!!!
Nicolyti Resident
Chief
StrayCatsScripter Resident
Scripter
Class/Group Chat Q&A time -
Every Friday @ 12noon SLT
Upstairs @ CAT HQ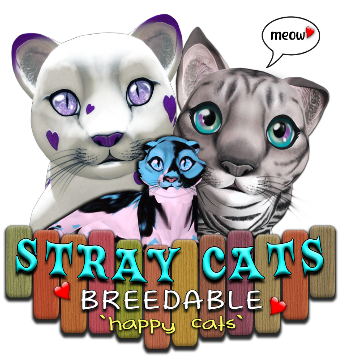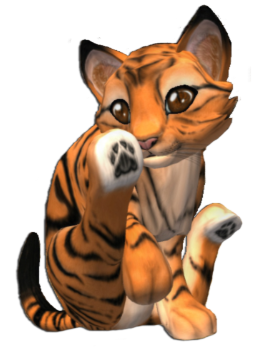 Second Life's Best Cat Breedable Ever!





Rust Pelt color - onto both Tortoiseshells and the Faboo Lemur
Periwinkle Pelt color - onto Solids, Bibbed & Modern Tuxedos
Night Camo Pelt Color - onto Magic Nights, Faboo Tigers & Ladybugs
As a test, we have changed the length of time it takes to mature in our cats…..now 5 days instead of 6 :)
Let us know if it's all working okay or you notice anything going awry, please.
Winter Design-a-Kitty Contest this year!
Please read the information here!
SOS is over!
You all were amazing and contributed so generously to the 'Doctors without Borders' charity.
Available at our Cat-HQ, using Stray Points only.
It unlocks two new pelts, Titanium & Patina, onto these breeds:
Bicolor, Bengal, Snowshoe, Snowshoe Tabby, Sphynx
Happy Breeding!!!!
Did you know that you can search for specific kitties IDs by using the Search-Description option in your SL inventory?
Open your inventory.
Click on the gear (settings) 'to the left of the + sign low down'
Look about ¼ of the way down and you will find 'Search By' - Choose Description. In the white box at the top, type in the ID you are looking for, like 790022 and hit 'enter'.
Pretty darn cool!
Don't forget to go back to the gear (settings) and change the Search By back to 'Name'.